Natural Warm Patch
£10.99
Bodytox® Natural Warm Patches box of 6 warm patches use a selection of natural ingredients, including semi-precious tourmaline crystal and worldwide patented microcapsules containing warm heat pigments to deliver the effects of far infrared energy (FIR) to the target area.
When the patches are applied to the body, the FIR warmth and active ingredients can provide temporary relief to soothe aches and pains and maintain healthy blood circulation around the targeted area.
Recommended to: aches and pains on the back, shoulder, neck, wrist, muscle spasms, stomach and period pains.
In Stock
Bodytox® Natural Warm Patches contain the highest quality natural ingredients:
Agaricus mushroom – produced in Brazil, contains vitamins, minerals, amino acids, including glucan. Agaricus forms anion and improves blood circulation of the human body by the effect of Far Infrared energy.
Tourmaline exerts a cleansing and liberating energy upon our entire nervous system with a clearing and stabilising effect. Tourmaline is best known for its ability to emit Far Infrared heat.
Eucalyptus Oil has an ability to support the reduction of inflammation.
Chitosan is a by-product derived from crab shell, an abundant, otherwise waste material. Chitosan products have been used for over 30 years by water companies to trap toxins, grease, heavy metals and oils.
Microcapsules, a patented container in which warming raw materials are placed. This plays an important role for generating warmth for an extended period.
Polysaccharide, a type of carbohydrate which retains heat effectively.
Vitamin C increases high density lipoprotein (HDL) production.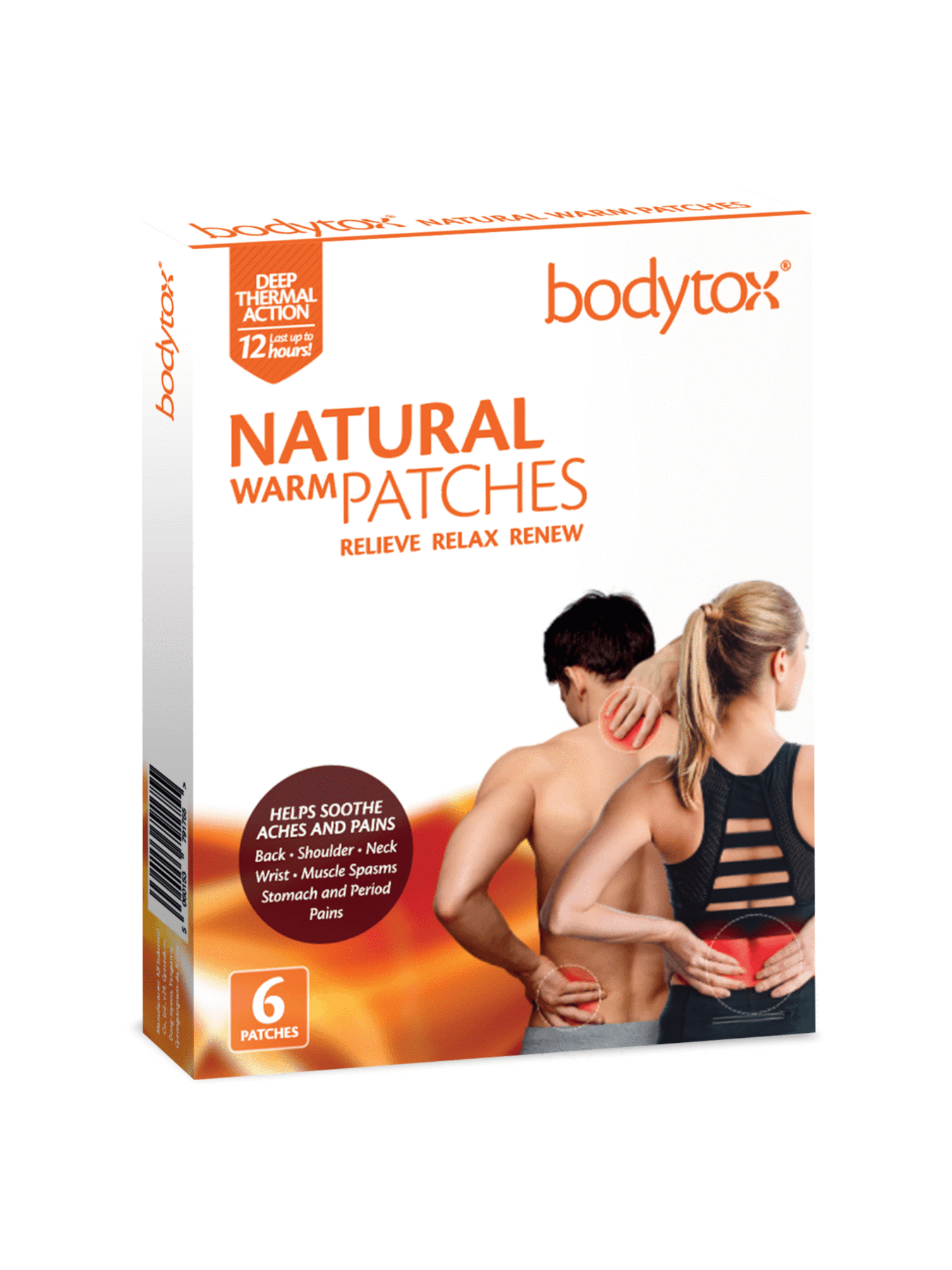 Remove the Bodytox® Natural Warm Patch from the packaging
Application to the Body – Apply the patches to the target area pressing and holding them firmly to secure. Apply more patches as required to cover the area but be careful not to apply the patches to a moist surface or to overlap the patches adhesive as this can cause the patches to become dislodged. Keep patches applied for a maximum of 12 hours.
Application to the Feet – Apply the Bodytox® Natural Warm Patches horizontally across the sole of each foot, pressing firmly to secure them. Patches should be left on for between 5 and 12 hours and normally during sleep time. A new one should be applied the next time you go to bed.