Monatomic Gold Powder
£30.00
What is Monoatomic White Gold Powder? 
Known as MFKTZ for the Egyptians and paradise's gift for Alexandrians, Monoatomic white gold powder has always been a special mineral thanks to its exotic healing properties. Today it is known as ORME (Orbitally Rearranged Monatomic Element), which is a scientific term coined for Monoatomic white gold powder. However, colloquially, it is known as ORMUS.
Monoatomic Gold, White Powder Gold, Manna or ORMUS gold, is a one-of-a-kind mineral. What makes it unique is that it is made up of valuable minerals such as gold, platinum, and iridium, but it is not kept in a metal state. ORMUS is made up entirely of free atoms, unlike other minerals, which are made up of bound atoms. At room temperature, monatomic gold is superconductive, which means that energy may pass from one superconductor to another without touching. Electricity needs to come into contact with something. Superconductors may sit far apart and yet be one as long as they have the same resonance frequency. They work together as a unit. As a result, when it is consumed, it may cause the cellular structure to become superconductive as well. This substance offers advantages that cannot be obtained in any other state due to its unique makeup.
Benefits of using Monoatomic White Gold Powder
Minerals help people by assisting in nerve impulse transmission, balancing various elements to maintain a healthy immune system, and assisting in biological activities by transferring energy via electron exchange. Due to its superconductive nature, monoatomic gold enhances the flow of biophotons, which produce energy from inside and enhance the human body's electromagnetic field.
Monoatomic gold also provides great assistance if you are on your way to a spiritual lifestyle. It helps relieve stress, aligns subconscious to conscious, taps into internal energy, detoxifies the body of harmful energy and accelerates the healing process.
Take daily: 
To sleep better
To relieve stress
To accelerate the healing process
To detoxify the body of traumatic energies
To align subconscious with conscious
To enhance the flow of biophotons
In Stock
Nutritional Information:
Each gram contains
Monatomic gold 700mg
Magnesium hydroxide 300mg
Guaranteed Free Of – No Artificial Colours, Flavours, Starch, Milk, Lactose, Soya, Gluten, Wheat, Yeast, Fish, Porcine.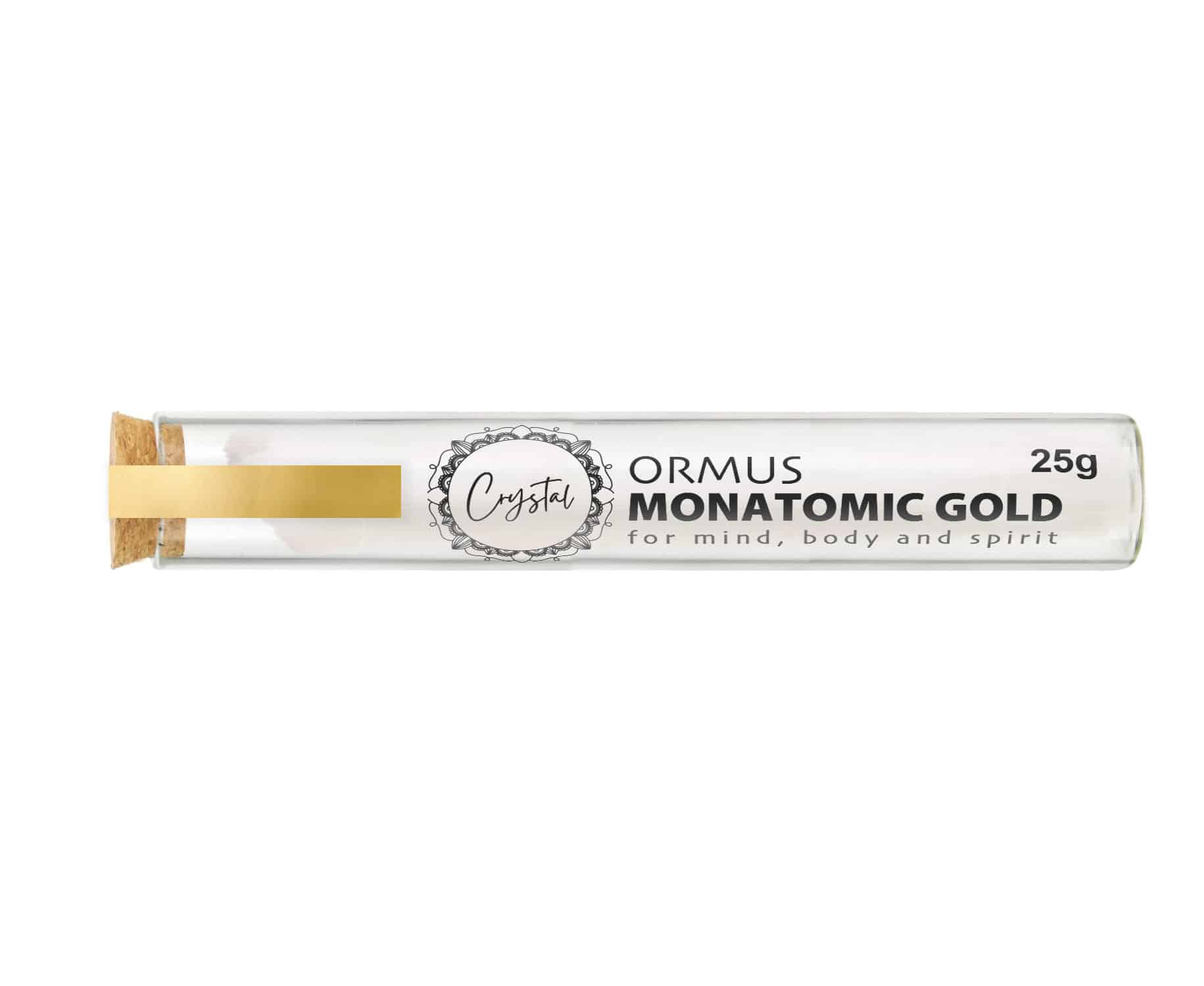 A quarter of a teaspoon a day in fruit juice or water.